Tyler says..
We were raised on television to believe that we'd all be millionares, movie gods, rock stars, but we won't. And we're starting to figure that out.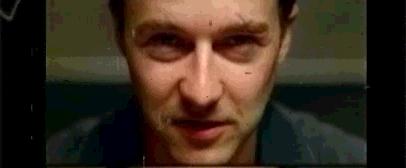 And we are really, really pissed.
Tyler Durden: We're designed to be hunters and we're in a society of shopping. There's nothing to kill anymore, there's nothing to fight, nothing to overcome, nothing to explore. In that social emasculation this everyman is created.
Tyler Durden: Did you know that by mixing equal parts of gasoline and frozen orange juice concentrate you can make napalm?
Narrator: Really?
Tyler Durden: One could make all sorts of explosives using common household items...
Narrator: Uh-huh...
Tyler Durden: ...if one were so inclined.

Tyler Durden: Advertising has us chasing cars and clothes, working jobs we hate, so we can buy shit we don't need.
Tyler Durden: You have a kind of sick desperation in your laugh.
Narrator: Look, no one takes this more seriously than me! That condo was my life, okay? I loved every stick of furniture in that place. That was not just a bunch of stuff that got destroyed, that was ME! [voice-over] I'd like to thank the Academy...
Narrator: I got in everyone's hostile little face. Yes, these are bruises from fighting. Yes, I'm comfortable with that. I am enlightened.
Posted by roge at June 15, 2003 2:14 AM